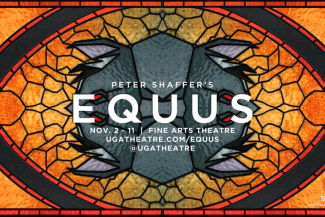 Fine Arts Building Fine Arts Theatre (Room 200)
By Peter Shaffer, directed by Ray Paolino.
University Theatre MainStage
The violent blinding of six horses is the incident that brings disillusioned psychiatrist Martin Dysart in contact with 17 year-old Allan Strang.  Puzzled by what led the seemingly well-adjusted boy to commit such a horrifying crime, Dysart is forced to contend with his own beliefs leading to a disturbing confrontation.Tickets are $16, $12 for students.