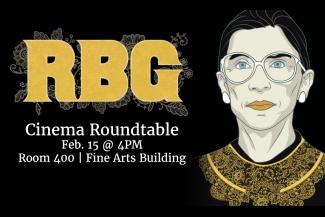 Fine Arts Building | Room 400
The award-winning documentary RBG, by Betsy West and Julie Cohen, details the rise of Ruth Bader Ginsburg from law school to her ground-breaking legal cases on gender rights to her rare "cult status" as a Justice on the Supreme Court. This roundtable will discuss the RBG movie, assess Ginsburg's significance for constitutional law and gender, and evaluates the media frenzy around her today. Panelists include visiting Federal Judge James D. Peterson (PhD in Film Studies), Matthew Bernstein (Chair of Film and Media Studies at Emory University), Sonja R. West (Law School/ Grady College), and Kate Fortmueller (Entertainment and Media Studies). Richard Neupert (Theatre and Film Studies) will moderate.
The roundtable is free and open to the public and the audience will be invited to participate in the questions and answer session. 
James D. Peterson, Matthew Bernstein, Kate Fortmueller
Theatre & Film Studies, Grady