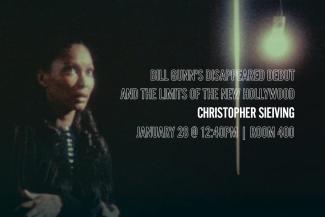 Room 400 (Balcony Theatre)
In the late 1960s, under pressure from various social critics and government entities, Hollywood studios began to recruit African American directors for the first time: Warner Bros. hired Gordon Parks to adapt his novel The Learning Tree, and both Ossie Davis and Melvin Van Peebles found employment at United Artists. In addition, the actor-writer Bill Gunn was enlisted to direct his own original screenplay for Warner Bros. But Gunn's Stop, though completed and slated for release in late 1970, was delayed and eventually permanently shelved by its producer. Despite the recent revival of interest in Gunn, as evidenced by the 2018 restoration and re-release of his vampire art picture Ganja & Hess (1973) and experimental soap opera Personal Problems (1980-81), Stop remains a lost film, existing today only as a faded, rarely screened VHS dub.  
Although the picture's sexual explicitness is usually blamed for its shelving, a close examination of the surviving edit and of Gunn's various script drafts suggests that the author's refusal to respect the narrative, thematic, and formal constraints then imposed upon Black film artists—even during the heyday of the so-called "New Hollywood"—was equally important in rendering his movie unassimilable within the commercial movie marketplace. Stop's disappearance implies second thoughts about inviting into the industry a Black director who refused to confine himself to "Black" issues. Gunn's work in literature and on stage and screen was unique in its resistance to classification. His instincts thus ran counter to the studios' impulse toward segmentation and categorization as a means of maximizing revenue, an impulse enforced during the concurrent Blaxploitation cycle. 
Christopher Sieving is Associate Professor in the Department of Theatre and Film Studies at the University of Georgia. He is the author of Pleading the Blood: Bill Gunn's Ganja & Hess (Indiana University Press, 2022), from which this colloquium paper is adapted.