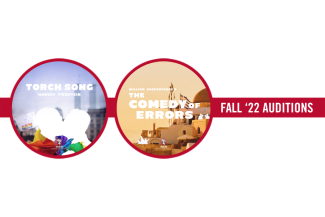 Fine Arts Building
UGA Theatre Fall 2022 Auditions:
Torch Song and The Comedy of Errors
UGA Theatre will hold auditions and callbacks for the Fall productions of Torch Song and The Comedy of Errors in person at the Fine Arts Building on Baldwin Street beginning August 25 & 26 between 6:00PM—10:00PM.
Callbacks will be held on Saturday, August 27 and Sunday, August 28. Callback lists will be posted on the evening of August 26 (Friday) at on this website.
To secure an audition appointment, students will need to:
Fill out the online audition form here: Audition Form
Select a time slot during which they would like to audition here: Time Slots
DEADLINE: August 23 by 12:00PM
Both forms will become inactive at noon on August 23 to allow time to process the audition forms for directors. 
Students must prepare one contemporary monologue and one classical monologue. These monologues should not exceed more than two minutes total (one minute each). Students must also bring two headshots to the initial audition.
All students are welcome to audition regardless of area of study or major. UGA Department of Theatre and Film Studies encourages all students to audition for any role they can fully embody and we welcome performers of all ethnicity, gender identity, and physical ability.
Rehearsals for department productions are typically on weekday evenings and one day each weekend during the below-designated rehearsal period.
Torch Song rehearsals will begin August 29, with the show closing October 9th. Performance Area Head George Contini will be directing. Performances will take place in the Cellar Theatre. For any questions about auditions for Torch Song, email George Contini (gcontini@uga.edu).
The Comedy of Errors rehearsals will begin September 19, with the show closing November 20th. PhD Candidate Jeremiah Albers will be directing. Performances will take place in the Fine Arts Theatre. For any questions about auditions for The Comedy of Errors, email director Jeremiah Albers (Jeremiah.Albers@uga.edu)
For general questions about auditions, email Tina Hantula (hantula@uga.edu)
NOTE: Use your UGA-affiliated email to contact the above individuals.
About the Shows
Torch Song by Harvey Fierstein
Torch Song is a  two-act version of the playwright's award-winning Torch Song Trilogy. It follows the life of Arnold Beckoff, a torch song-loving Jewish drag queen living in New York City in the late 1970's and early 1980's. Arnold is on an odyssey to find respect, love, and acceptance from his partners, family, and friends. Anyone who has ever fought to speak their own truth will recognize themselves in this queer theatrical masterpiece. 
Note: This production involves both kissing and simulated sexual activities with no nudity. An intimacy director will be employed by the department in the staging of these scenes.  
All roles are open except for the role of Laurel.
We are seeking actors to play 5 roles:
Arnold Beckoff:  the central character of the play. 20-30, Fierstein describes him as a kvetch (someone who complains habitually) of great wit and great want.
Ed Reiss: Arnold's bisexual lover and friend.  20-30, athletic, charming, sexy, but also very confused and emotionally raw.
Alan: 18-20 fashion model and former hustler, attractive.
David Beckoff: Arnold's 15 year old adopted son, has had a rough life in foster homes, but is wonderfully bright.
Ma: Arnold's extremely strict, traditional Jewish mother with a sharp tongue. Mid 40-50. A widow from Miami Beach, she is fit and active.
The Comedy of Errors b

y William Shakespeare
Shakespeare's slapstick comedy depicts the madcap antics of two sets of twins separated at birth. As one set of twins searches for their lost siblings, they arrive in the rowdy city of Ephesus where - despite having never been there - everyone seems to recognize them. What follows is a farcical mélange of mayhem, misunderstanding, and mistaken identity wherein crowd-pleasing confusion reigns supreme and puns abound.
All roles are open except for the role of Antipholus of Syracuse and Adrianna.
We are seeking actors to play 16 roles:
Antipholus of Ephesus: a merchant, one of a set of twins separated at birth.
Dromio of Syracuse:  Servant of Antipholus of Syracuse, one of a set of twins separated at birth.
Dromio of Ephesus:  Servant of Antipholus of Ephesus, one of a set of twins separated at birth.
Luciana:  Antipolous of Ephesus' sister-in-law pursued b Antipholus of Syracuse.
Egeon:  Old merchant, father of one set of twins, facing the death penalty for entering Ephesus.
Solinus: Duke of Ephesus.
Goldsmith: a friend of Antipholus of Ephesus
Courtesan
Dr. Pinch:  teacher and exorcist.
Lady Abbess: elderly, a nun.
Balthasar:  merchant and friend of Antipholus of Ephesus.
Luce: servant girl.
First Merchant
Second Merchant
Messenger
Jailer
NOTE: It is highly encouraged that you read the plays before auditions. Not only will this put you at an advantage in the event that you're called back, it will give you a more well-rounded expectation in the creative direction of the piece. 
Copies will be available in Publicity Coordinator Clay Chastain's office (204) for check out.