Image: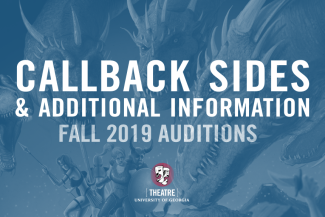 She Kills Monsters 
Niagara Falls
More notes on Niagara Falls below. 
[The GA Incarceration Performance Project] Presents: By Our Hands
GA Incarceration Audition Packet (Please Read)
ADDITIONAL NOTES
Niagara Falls
Production Dates are Oct 22-27 in the Cellar Theatre.  Performances are 8pm Tues-Sat, with two matinees at 2.30 on Saturday and Sunday.
Rehearsals begin September 16th and run to opening.   Tentative rehearse times will be weekday nights 6-10 and one weekend day 10-5.
Please make an audition appt through the dept. website.
Prepare two contrasting contemporary monologues.
Production Personnel
Director:  George Contini
Playwright: Steve Yockey: an alum of the UGA Theatre & Film Studies. He currently is a Los Angeles based writer with work produced throughout the US, Europe, and Asia. His plays Bellwether, Pluto, Afterlife, Octopus, Large Animal Games, Cartoon, Subculture, Very Still & Hard to See, The Fisherman's Wife, Wolves, Disassembly, and Niagara Falls & Other Plays are published and licensed by Samuel French. Other plays include Blackberry Winter, The Thrush & The Woodpecker, and Mercury. This past season Reykjavík opened as a National New Play Network Rolling World Premiere at Actor's Express (Atlanta), Rorschach Theatre (DC), Kitchen Dog Theatre (Dallas), and Southern Rep (New Orleans) and Sleeping Giant will premiere in the 2019 Edinburgh Fringe Festival. Steve holds an MFA from NYU's Tisch School of the Arts and currently serves as a writer/producer for the television series Supernatural.
Are you a Designer looking to boost a resume ? We need you too! Niagara Falls is seeking the following design folk---Set/Props Designer, Costume Designer, Sound Designer, Lighting Designer, ASM's. Please contact George Contini if you are interested in any of these positions at gcontini@uga.edu
Style/Production Needs
This is a time bending romance. The style is light, quick, and quirky.  Please note - it's an extreme comic romance, all actors will be required to engage in stage violence and stage intimacy.  All characters passionately kiss at least once, others are more physically intimate. Violence and intimacy will be staged by a violence/intimacy director.  
This is a Studio Production which are, by their nature, very ensemble driven. Cast members may be asked to supply costumes, props to the production.
A perusal copy of the script is available in the office.
Callbacks will consist of a group exercise involving all people called back, followed by scene readings from the following scenes:
Jack and Avery - Pg 83-85
Linda, Jack, Avery - Pg 90-92
Toby and Ben - Pg 98-99
Ben and May - Pg 101-103
Bale and Max Pg 114-116
Essa and Cliff Pg 122-123
Jane and Dan Pg 133-135
Character Breakdown
Avery:  a new wife, upbeat, but unsure she's made the right decision &  anxious about what's been left behind 
Jack:  a new husband, cocky, fun, impetuous, not very serious, and definitely the captain of his own ship 
Ben:  a man, faithful and romantic, fighting both a losing battle to save his marriage and a looming loneliness 
May: a woman, Ben's wife, a bit ferocious, completely done with the past and ready for something new 
Toby: a man, May's new fling, takes things as they come and has a no nonsense, no regrets approach to love, has an "exotic" air about him--Eastern European accent? Jamaican?
Linda: a woman, a crack concierge, goes above and beyond, she always brings the champagne, she's seen some shit, she sings opera quite well, needs to sing Dido's Lament from Dido and Aeneas
Bale:  a man, nomadic, a "carnie," but the fun kind of carnie, a touch of mystical wisdom; he's not creepy, Australian dialect, plays a string instrument—ukelele? Guitar? Mandolin?
Max:  a man, a pretty down to earth guy just trying to get over his failures. By burning everything down. 
Cliff:  a man, not easily taken in by con artists, not really looking for answers - but they're looking for him 
Essa:  a woman, a fortuneteller, well... the niece of a fortuneteller who may or may not be for real 
Dan: a man, a guy's guy, a real daredevil; that's his profession, he performs daredevil stunts for a living , American Southern dialect
Jane:  a woman, an amnesiac, Jane Doe, starting fresh with wide eyes, she might have survived the unthinkable 
NOTE: "The Foley Ensemble" (comprised of Bale, Max, Cliff, Essa, Jane, Dan) remains seated on stage for the entire first act. They provide all sound effects and music cues live during performance. No instruments; all vocals and percussion. Looking for actors who can harmonize and sing a capella, simulate musical instruments, do vocal sound fx.
I will also be casting One Male and One Female Understudy.