Image: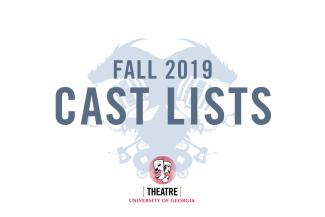 She Kills Monsters
Cast List
| | |
| --- | --- |
| Agnes | Savanah Hudson |
| Tilly | Rachel Hoover |
| Chuck | Collin Hendley |
| Miles/Shapeshifter/Gel Cube | Greg Lloyd |
| Kaliope/Kelly | Kendal Reeves |
| Lillith/Lilly | Chandler Poole |
| Vera/Farrah/Beholder/Puppeteer | T.Lynn Mikeska |
| Evil Tina/Puppeteer | Sydney Wakeford |
| Steve/Adventurer/Puppeteer | Bryson Parker |
| Orcus | Nick Schwarzmann |
| Ronnie/Puppeteer | Lucas Parker |
| Evil Gabbi/Puppeteer | Vivian Lee-Boulton |
Thank you to all who auditioned for sharing your playfulness, energy, talents and effort. Deciding among the vibrant choices was a difficult process. This list reflects a combination of talents and dynamics that I believe will form an energized and exciting ensemble for exploring and telling our dynamic story.
The full cast will meet for our first week of rehearsals beginning this Monday, Aug 26th and we will have the following schedule.
 ·Aug 26@6:30pm: First Rehearsal in Fine Arts 352
·Rehearsals: Sun 5:30-10p, Mon-Fri 6:15-10:00pm
·No Rehearsal on Labor Day, Sept 2. 
·Rehearsal is Scheduled for this Friday Aug 30 before Labor Day.
·Off-Book Sept 13
·Show opens Oct 3
 Scripts can be picked up in the Main Office.
See you Monday night!
Niagara Falls Cast List
Thanks to everyone who participated in callbacks on Saturday!
I really appreciated all the positive energy, focus, and tremendous talents you brought to the room!   Your foley stories were so awesome they made me rethink how I was gonna cast the show and I added more roles!
If you were not cast in this production I sincerely hope we get to work together in the future in classroom or production.
If you are interested in being involved in other aspects of the production please contact George Contini, gcontini@uga.edu.   I am still looking for a set designer, props person, costume designer, and assistant stage managers!  If you want to do some resume building in any of these areas please contact me asap!
 The first rehearsal will be September 16 at 6 pm.  I will be sending out a rehearsal schedule after Labor Day.
 Please Note---I've expanded the Foley Ensemble to include 5 additional roles to be played by the Understudies.   
Avery: Brooke McCarthy
Jack: Sean Birkett
Ben: John  Galas
May: Robyn Accetta
Toby: David Cowan
Linda: Daja Rice
Bale: Shanon Weaver
Max: Doug Goodin
Cliff: Chad Dyer
Essa: Atty Siegel
Dan: Jackson Miller
Jane: Eva Ramirez
The Foley Ensemble/Understudies
Understudy Max, Cliff, Ben: Sean Turner
Understudy Dan, Jack, Toby: Wyatt Brooks
Understudy Linda, Essa:  Nala McCamy
Understudy Jane, Avery:  Marianne LaMarche
Understudy May, Bale:  Roni Nash
[Georgia Incarceration Performance Project]
The DIRECTOS would like to thank everyone who auditioned for [the Georgia Incarceration Performance Project]. All of you impressed us with your generosity of spirit, collaborations and gifts/talents. Truly. 
We are pleased and excited to announce [the Georgia Incarceration Performance Project] Performing Ensemble 
Jack Dugan

 

Madeline Franz

Brett Green

Claire Holman

Jonathan Matthews

Nosayaba Okungbowa

Sydney Patton

Mira Ratchev

Morgan Watkins

Breanna Wheeler
 Swings/understudies: 
Olivia Bell

 

Marika Carlson

Cydney Seigerman
*If you have been cast as an understudy/swing, we will discuss what this role means as we move forward in our process. Our first full ensemble rehearsal is this Tuesday!
 FIRST REHEARSAL THIS TUESDAY, AUGUST 27
We will be meeting in Special Collections Library Room 277 (with some activities taking place in the exhibit galleries) on Tuesday, August 27 2-4:45pm; we will then transition to a 6-8:30pm rehearsal in a location TBA. 
Reminder: As discussed during callbacks, each student should determine if they wish to late-add the Community-Based Theatre class (not a requirement); and make arrangements accordingly.