Image: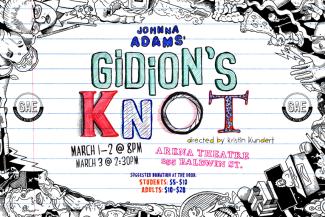 ATHENS, GA - The Graduate Acting Ensemble (GAE), a cohort of MFA students in UGA's department of theatre and film studies, presents Johnna Adams' "Gidion's Knot", directed by professor Kristin Kundert. Performances will be held March 1–2 at 8pm and March 3 at 2:30pm in the Arena Theatre of the Fine Arts Building at 255 Baldwin St. Tickets are a suggested donation ranging from $5-$10 for students to $10-$20 for adults and can be purchased at the door.
Written in 2013, playwright Johnna Adams' "Gidion's Knot" revolves around a parent-teacher conference that occurs shortly after the suicide of a character's son – the titular Gidion. The conversation between the teacher and mother becomes combative and emotional as they cycle through the harsh truths of Gidion's school and home life. Utilizing a myriad of references to medieval poetry, ancient mythology, and Hinduism, Adams' work explores the charged relationship between the two women as they piece together the troubling past and dark motivations for Gidion's untimely death and violent worldview.
The title of Adams' work refers to the Gordian knot, often used as shorthand for an extremely difficult problem. This is perhaps an oversimplification of the complexities of trying to understand Gidion's decision to end his life. Each character offers two wildly different perspectives of the young boy. Through sharing their separate experiences, the parent and teacher struggle with the remaining ambiguity surrounding Gidion's seemingly fractured personality.
The characters' confusion and pain is a pivotal element for director Kundert. "It is no one person's 'fault', but what we can learn is to empathize and forgive each other in situations like these." At the time of the play's conception, bullying and its effects on mental health were becoming a prevalent cultural discussion in the media – specifically with regard to queer-identifying children. With that in mind, the play's ultimate message focuses on creating and sustaining a brighter future for upcoming generations. "The play talks about the complexity of raising and educating children. Everyone has a part to raising a child," stated Kundert.
Director Kristin Kundert was also attracted to the complicated dynamic between the play's two female characters and the female-driven narrative. This small-scale production features two first-year MFA acting students, Robyn Accetta and T. Lynn Mikeska and is designed by Kellie Murphy, a first-year MFA scenic design student. Undergraduate Cecilia McIntyre serves as stage manager, rounding out a production team comprised entirely of female actors, designers, and crew.
Cast:
Corinne – Robyn Accetta
Heather – T. Lynn Mikeska
Scenic Designer – Kellie Murphy
Stage Manager – Cecilia McIntyre