Image: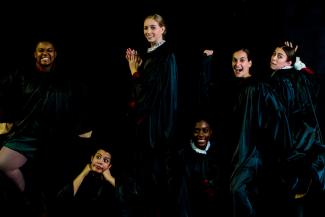 ATHENS, GA – UGA Theatre presents "Peas, Patelin, and Purgation: Three Farcical Arts of the Deal." Featuring a world-premiere translation and directed by associate professor Marla Carlson, performances are March 19–23 at 8:00 p.m. and March 23 & 24 at 2:30 p.m in the Cellar Theatre. Tickets are $12 and $7 for UGA students. Tickets can be purchased online at www.ugatheatre.com/threefarces, via phone at 706-542-4400, or in person at the Performing Arts Center or Tate Center box offices. 
A down-on-his-luck lawyer sets off an endless chain of deceit that backfires on him. A young husband turns a messy accident to his advantage. A foolish man attempts to sell a sack of peas, hampered by the worst memory ever. Featuring three comedic stories of negotiations gone awry, "Peas, Patelin, and Purgation" presents a modern twist on the time-honored tradition of medieval farces. Characterized by quick, witty banter, physical comedy, and misogynistic undertones, farcical theatre of the 15th and 16thcentury conventionally relied on all-male casts to convey its narratives. Director Marla Carlson has inverted this paradigm by casting all females in her production.
The title "Peas, Patelin, and Purgation" refers to three separate works: "The Farce of the Peas," "The Farce of Master Pierre Patelin," and "The Farce of the Washtub." "Washtub" is a short comic gem about a young husband turns a messy accident to his advantage, ending an argument over who should do the housework. "Patelin" is widely recognized by medieval French scholars as the genre's masterpiece. One of the most popular and influential plays of the 15th century, it tells the story of an old lawyer who sets off an endless chain of deceit that backfires.
UGA's production of the third play "Farce of the Peas," is an historic event: the play, recently discovered in a manuscript containing 74 plays from the city of Rouen, has not been performed in more than five hundred years. Mario Longtin, associate professor of French at the University of Western Ontario, is spearheading an effort to translate the plays for the first time into English. Longtin invited Carlson to co-translate the play to bring out its full comic potential and make it come alive for 21st century audiences. 
According to Carlson, all of these works "play around with the related problems of living harmoniously with people when our needs conflict and negotiating with people who we don't trust—problems as pressing now as they were when modern commerce and legal practice were taking shape in the late fifteenth century."
Department head David Saltz says that this production "represents exactly what university theatre should be about, perfectly blending art and scholarship and providing audiences with an uproariously entertaining theatre experience that brings newly discovered historical artifacts to life."
Following its premiere run at the University of Georgia, the production will travel to Genoa, Italy in July 2019 for a special performance at the sixteenth triennial colloquium of the Société Internationale pour l'Étude du Théâtre Médiéval (SITM). 
Cast:
Colinet, Thibault, Jaquinot – Alexa Adcock
Neighbor 1, Judge – Olivia Babuka-Black
Perrine, Wife – Savanah Hudson
Patelin – Brooke McCarthy
Neighbor 2, Guillemette – Kya Missick
Clothier, Mother-in-Law – Daja M. Rice