Recent UGA Theatre & Film Studies alumni (and even one current student) are making a scene in the Atlanta theatre community. 
Actor's Express
The Go-Go's-based musical Head Over Heals boasts three UGA Theatre alums in its cast: Abby Holland (BA '15), Brandy Sexton (BA '18), Taylor Bahin (BA '18). Head Over Heals closes on August 25 but there are still tickets available at www.actors-express.com/plays/head-over-heels. Actor's Express has hosted Bahin and Sexton, along with Ashleigh Randolph and Jessica Browder, as part of its intern cast for the last year. 
Skintight, a new comedy opening in September, features Drama Dawg Jake Berne (BA '18) in its cast. For more information on this production, see www.actors-express.com/plays/skintight. 
Aurora Theatre
Aurora Theatre is already significant for UGA Theatre & Film Studies because of UGA alum Anthony Rodriguez, its co-artistic director. But a current production of John Caird and Stephen Schwartz's Children of Eden also features the talents of 2018 graduate Briana Young. For more information, visit here: www.auroratheatre.com/
Essential Theatre
Actor's Express Intern Taylor Bahin is also cast in Essential Theatre's production of Ben Thorpe's Baby Shower for the Antichrist, closing on August 25. More information here: www.essentialtheatre.com/play/babyshower-for-the-antichrist/
Synchronicity Theatre
In addition to their 2019-2020 season, Synchronicity Theatre in Atlanta provides opportunities for emerging voices in the theatrical community with its Stripped Bare Incubator series. On Nov. 13, current UGA Theatre & Film Studies student Abraham Johnson's play What the Woolf Wore will be featured, directed by alumni Jessica Browder. More information on Synchronicity's Stripped Bare series here: https://synchrotheatre.wordpress.com/category/stripped-bare/
Film Studies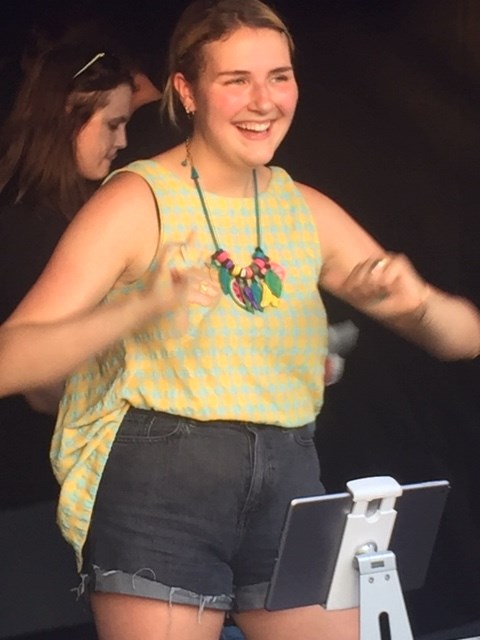 Jianna Justice (Film Studies BA '18) has been working with renowned indie-film distributor A24 as a Creative Brand Coordinator and recently visited Athens for A24's Public Access series screening of The Spectacular Now (2013).