Image: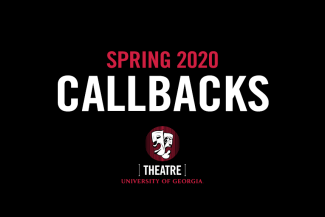 Note: Friendly's Fire is no longer being produced in Spring 2020 as part of the UGA Theatre Season. We will announce a replacement production soon.
Penelopiad Callback List
Tuesday, November 19, 6pm-10pm, room 115
Thank you all for your time! We saw an incredible amount of talent and collaboration in the auditions, and we're looking forward to doing a deeper dive with you all in callbacks. Here are a few notes for the evening. See you Tuesday!
ALL ACTORS: please prepare the Maids side in addition to the side(s) you are called back for. Note: You might be called back for more than one role. You will also be considered for roles that we don't have sides for.
To anyone who plays an instrument: please prepare to play 16 bars on any instrument you own and are reasonably proficient in (you can sing, too, if you want!). 
Note: the role of Melantho requires simulated violence and rape (no nudity). If you are not comfortable with this role, please choose any other character to read for, and we'll read you for that role, no questions asked. 
Please come dressed to move (dress like you're going to a yoga or workout class); be comfortable! There will be both a movement call and a singing call; we'll teach you a short song in the room, and it will be mostly ensemble singing.
Please be prepared to stay for the entire time (6-10 pm).
NAIAD MOTHER: 
Isabel Arenas
Lindy Simmons
Eva Ramirez
Sydney Patton
Nickasey Freeman
TELEMACHUS: 
Lily Robles
Sarah Harvey
Shannon McCarthy
Grace Pottorff
Emma Powers
Anna Tilghman
EURYCLEIA:
Zachary Pareiz
Andie Ellett
Nosayaba Okungbowa
Nala McCamy
SUITORS:
Roni Nash
Maggie O'Neill
Jillian Mitchell
Kendall Reeves
Jennifer Wright
ORACLE: 
Lia Anderson
Alexa Adcock
Sydney Wakeford
Savannah Hudson
Sydney Patton
Zachary Pareiz
ICARIUS:
Grace Gerely
MELANTHO:
Emily Willet
Ariena Upton
Kalissa Hernandez
Brie Wolfe
Nickasey Freeman
Hannah Hardin
HELEN: 
Olivia Hunter
Ciara Pysczynski
Sarah Sewell
Alexa Adcock
Brie Wolfe
Savannah Hudson
Caroline Leggitt
Emma Ruth Matthews
Hannah Hardin
 
Into the Woods Callback List
Monday, November 18, room 115

5:30-6:00pm

OPEN CALL:
Comedic male actors interested in puppeteering MilkyWhite, bring your own inanimate object (soccer ball, milk jug, etc) to be used as your puppet. This audition slot will be filled with several improv exercises. Milky White does not have any lines in the show! 

6:00-6:30pm

LITTLE RED RIDING HOOD:
Roni Nash 
Isabel Arenas 
Lily Robles 
Caroline Caden 
Brie Wolfe 

6:30-7:00pm

CINDERELLA:
Maggie O'Neill 
Tori Langham 
Eva Sophia Ramirez 
Rachel Hoover
Emma Matthews 

7:00-7:30pm

JACK:
Duncan Weinman 
Cole Dziedzic
Wyatt Brooks 
Warren  Rogers 
Will Cole  

7:30-8:00pm

JACK'S MOTHER:
Tori Langham 
Alexa Adcock
August Williams 
Hannah Hardin 
(Also add...) 
CINDERELLA'S MOTHER 
Ciara Pysczynski
Caroline Leggett 

8:00-8:30pm

RAPUNZEL:
Kalissa Hernandez
Rachel Hoover 
Madeleine Baker 
Emma Matthews
Sydney Wakeford 

8:30-9:00pm

RAPUNZEL'S PRINCE:
Alex Barlowe  
Zachary Tate
Colin Hendley 
Wyatt Brooks
Cole Dziedzic

9:00-9:30pm

STEPMOTHER/STEPSISTERS (All read for stepmother):
Kalissa Hernandez 
Tori Langham 
Paris Johnson 
Eva Sophia Ramirez 
Caroline Leggett
Nickasey  Freeman 
Sydney Wakeford

9:30-10:00pm

NARRATOR:
Alex Barlowe
Greg Lloyd 
Jack Dugan

10:00-10:30pm

MYSTERIOUS MAN:
Alex Barlowe 
Lucas Iddings 
Jack Dugan