Image: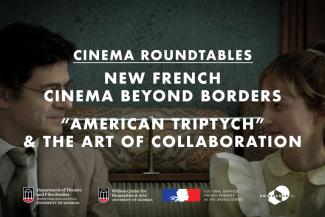 As a part of UGA's Spotlight on the Arts Festival, the Department of Theatre & Film Studies was involved in two wonderful cinema roundtables organized by the Willson Center for the Humanities & Arts. 
The event presents three movies from the 2021 Young French Cinema program as well as a virtual roundtable discussion with the filmmakers. All three films were created by women writer-directors and feature characters from outside of France. THE END OF LOVE (À Coeur battant) by Keren Ben Rafael is set in France and Israel; THE SKIES OF LEBANON (Sous le ciel d'Alice) by Chloé Mazlo takes place in Beirut; and SHOULD THE WIND DROP (Si le vent tombe) by Nora Martirosyan follows a French inspector in Nagorno-Karabakh. The roundtable discussion is focused on storytelling, gender, and French culture beyond France's borders. Participants also include Kelley Conway, chair and professor of film in the department of communication arts at the University of Wisconsin-Madison. The three films were available for free online viewing before the event.
The roundtable is part of France-Atlanta 2021, an annual series of high-caliber events, centered on innovation and designed to foster transatlantic cooperation and exchange in the fields of science, business, culture and humanitarian affairs. The series is co-organized by the Consulate General of France in Atlanta and the Georgia Institute of Technology, under the high auspices of the Ambassador of France to the United States, the Governor of Georgia and the Mayor of Atlanta.
This event brings together five UGA faculty from the Grady and Franklin Colleges to discuss their recent work on the short film "American Triptych," written and directed by Booker T. Mattison (Entertainment and Media Studies). As the movie's press book explains, "Three American lives are radically changed during the tumultuous summer of Covid-19. 'American Triptych' dramatically explores food insecurity, homelessness, xenophobia, and police brutality – all exacerbated by a nation divided and a rising tide of uncertainty."