Image: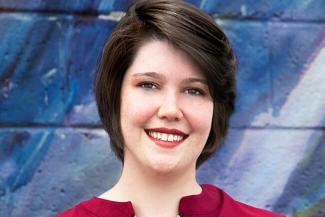 Congratulations to MFA graduate Haley Brown, who has been awarded the coveted John Spiegel Theatrical Artist Award at the 2022 SETC Annual Convention! The John Spiegel Theatrical Artist Award is presented annually to a student pursuing a degree or certificate in one of the following areas: lighting design, projection design, properties design, scenic design, sound design, stage management or technical direction. The winner is awarded:
$1,000 for tools and/or supplies that will aid in the study of their craft, e.g. software and external hardware, paint and paintbrushes, microphones or audio recording equipment, hand or power tools, etc.
Free one-year membership to SETC
Free registration for the 2022 SETC Convention
Automatic entry into the 2022 SETC Design Competition
Design portfolio showcased at the 2022 SETC Convention
Will be recognized at the 2022 Awards Ceremony
Photo and bio recognition on the SETC website
Haley's Bio on SETC's Recognition Page: 
Haley Brown is a lighting designer living in Athens, GA where she is completing her final year of study for her MFA from the University of Georgia. She has worked as a lighting designer, assistant lighting designer and lighting programmer primarily along the East Coast, for theaters such as Out Front Theater Company, Stagedoor Manor, GLOW Lyric Theater, Warehouse Theater, Thin Air Theater Company and the Alliance Theater. SETC has played a pivotal role in her career and over the years has become the nexus for her theater family. She is honored to be recognized by the institution where she has found an artistic community. When not working, you can find her attempting to train her dog Mace, competing in roller derby matches, and playing D&D with her husband and close friends. You can check out her work at www.haleybrowndesign.com or follow her on Instagram @haleybrowndesign.