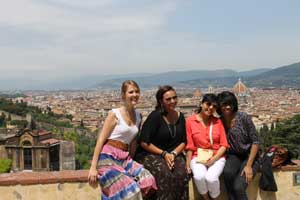 Travel to Italy to learn about and perform classic Italian comedy styles and Commedia dell'Arte in the midst of the rich culture of Tuscany, one of Italy's most artistically fertile provinces. This intensive Maymester program meets in the ancient, medieval walled town of Cortona, where the University of Georgia has been hosting study abroad programs since 1970.
The setting for the University of Georgia's Drama in Cortona program is the small, quiet, walled hill town of Cortona, Italy. Its history dates back to pre-Christian times and was settled by the early Etruscans. Centrally located within the Tuscany region on the crest of Mont S. Egidio overlooking the vast Val di Chiana (site of one of Hannibal's key battles), Cortona is surrounded by beautiful olive groves, vineyards, rich valley farmland and immense history.
Italy is the perfect location to study and perform Italian style comedy while also immersing oneself in the local and regional cultures of art, history, wine making, food and language. Cortona and the UGA facility is the perfect place to rehearse and perform Italian style comedy techniques in scenically exquisite venues. Cortona has two theatres, an outdoor amphitheatre on top of the hill with a marvelous scenic view, and indoors in the 19th century Signorelli Theatre which anchors the major piazza in Cortona. In addition, students may perform in another amphitheatre within the walls of a medieval fortress in nearby Castiglione da'Lago, above the blue-green waters of Lake Trasimeno. Students will share dorm rooms on campus in a renovated 15th century monastery and enjoy dinners in a local family-run restaurant.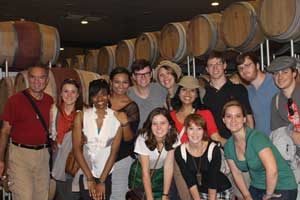 The courses are taught by a tenured UGA professor from the Department of Theatre and Film Studies. The Maymester Drama Program in Cortona will be a practical experience culminating in several public performances of a short Shakespearean text. Students will study the history, technique and practice of Italian style comedy, improvisation, Commedia dell'Arte and Shakespeare. The combined efforts of both courses will result in a short performance that will be offered to the Cortona and surrounding communities in both indoor and outdoor venues. In addition, the program will contain an overnight trip to Florence to view a performance of Italian theatre and visit the major museums there under a guided tour (the Uffizi, Michelangelo's "David," the Medici Chapel and the Duomo). An additional field trip is planned, in conjunction with the Viticulture Program, to a Tuscan vineyard to view the wine-making process and sample its results. Students will conclude their Maymester with an overnight in Rome, visiting Vatican City, the Vatican Museum, the Forum and many of the major architectural treasures of Rome.
Enrollment is limited to 15 students, so apply early.
Curriculum and Credit
THEA 5335/7335, Shakespeare Practicum

(Undergraduate and Graduate). 3 Credit hours. No prerequisite.

THEA 5590/7560, Projects in Drama

(Undergraduate and Graduate). 3 Credit hours. No prerequisite.

Total credit hours required: 6
Both courses are open to students of any major and require no prerequisite.
Instruction
Courses will cover an overview of comedy in the classic Italian style (Commedia dell'Arte), rehearsal and performance techniques of comedy applied to a Shakespearean script and several public performances. In addition, students will experience Italian art and culture with overnight trips to Rome and Florence as well as field trips to a professional Italian theatre performance and a Tuscan winery.
Eligibility and Costs
Prerequisites: None
Preferably students who have completed 2 years at UGA or another accredited institution. Exceptions may be made for rising sophomores depending on application. This program is designed for undergraduate and graduate students with interest in the practice of theatre and performance and a curiosity for Italian culture. This program is open to majors of any field.
Estimated costs vary depending on the number of students admitted. The program includes housing, dinners Monday through Friday and breakfast each day of the week. The program fee also covers transportation to all field trips and overnights, hotels and dinners during overnights, museum and theatre admissions. Check the website for updated cost estimates. Students will be expected to provide airfare and meals (lunches) which are not provided by the program.
Contact/Faculty
Professor Ray Paolino, Director of Theatre (Department of Theatre and Film Studies)
Actor, Director and Teacher
For more information including application deadlines, detailed course offerings, tuition and other expenses, please visit us online, call us at (706) 542-7120, email us, or find us on Facebook.