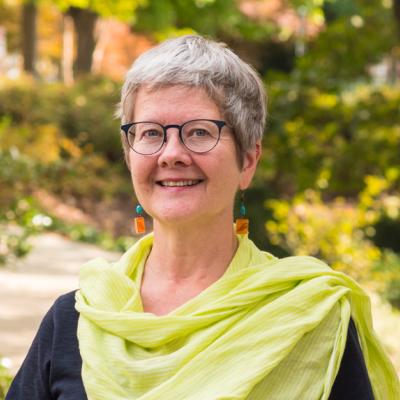 Professor
Graduate Coordinator
History and Theory Area Head
Contact Info
Office Hours:
Via Zoom T/R 2-2:30, W/F 10:45-11:15; other times by appointment
Marla Carlson's Affect, Animals, and Autists: Feeling Around the Edges of the Human in Performance (University of Michigan Press, 2018) brings animal studies and disability studies into conversation with performance studies to consider what it means to be human in the twenty-first century and how we might move toward a more equitable, reciprocal relationship with other creatures and with those previously relegated to the fringes of humanity. Performing Bodies in Pain: Medieval and Post-Modern Martyrs, Mystics, and Artists (Palgrave Macmillan, 2010) examines spectator response to performances of physical suffering in twenty-first century New York and fifteenth-century France. She is currently working on an article about a violent entertainment featuring four blind men and a pig staged in Paris, 1425. Marla's work in physical theatre and dance continues to inform her scholarship as well as her directing at UGA. Dr. Carlson began a three-year term as President of ASTR in November 2018.
Courses offered Fall 2020 via Zoom and eLC:
Seminar on Performative Affect (THEA 8400, CRN 46484), Mon 1:50-4:50: Of all art forms, theatre most overtly traffics in affect and accomplishes its aims by making audiences feel. A historically robust strain of antitheatrical prejudice proceeds from the assumption that feeling overrides rational thought. This notion bleeds over into contemporary politics as public discourse appears to favor manipulation of emotions rather than exchange of ideas. Yet cognition and emotion are deeply intertwined if not inseparable, and it behooves us to understand their workings regardless of the sphere(s) in which we perform and respond to performance. After foundational readings in two major strands of affect theory proceeding from Silvan Tomkins and from Deleuze and Guattari, this seminar will concentrate on recent work by feminist and queer theorists such as Sara Ahmed, Lauren Berlant, and Sianne Ngai. The final third of the semester will be shaped by students' individual research, which need not focus upon theatre or live performance.
Theatre and Society (THEA 4220/6220, CRN 26015/26016), MWF 11:30-12:20: Examines theatre as a cultural form crucially interwoven with systems of social organization and government: as a forum for debate, a dangerous location to be regulated, a tool for molding citizens, or a revolutionary force; studies theatrical practices and dramatic literature across historical periods; global in scope. Providing a survey of world theatre history and dramatic literature, this course examines theatre and its publics in diverse historical and geographical contexts.
For Fall 2020, this course has been reshaped to both accommodate and reflect upon the COVID-19 pandemic that began in early spring and calls into question the future of our social institutions, including the theatre. At the same time, the ongoing fight for racial justice and ethical governance demand our attention. We'll be asking what we can learn about our present moment from theatres of the past and how we want this foundation to shape our future—or in some cases, how we might leave its constraints behind.
Of note:
Gerald Kahan award from the American Society for Theatre Research for "Looking, Listening, and Remembering: Ways to Walk New York After 9/11," published by Theatre Journal in 2006.
Outstanding Mentoring Award from UGA Graduate School in 2013.
Education:
PhD in Theatre, City University of New York Graduate School
MFA coursework, Goodman School of Drama
BA in Theatre, Lewis and Clark College
Research
Courses Regularly Taught

Courses Regularly Taught: