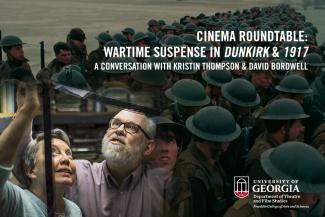 Virtual
Cinema Roundtable: "Wartime Suspense in 'Dunkirk' and '1917': A Conversation with Kristin Thompson and David Bordwell"
This Willson Center Cinema Roundtable brings together two of the world's most renowned film scholars, Kristin Thompson and David Bordwell, both of the University of Wisconsin-Madison, to discuss storytelling in two important recent films. It is presented by the Willson Center for Humanities and Arts and the department of theatre and film studies.
The roundtable will be presented remotely via Zoom. Please pre-register to attend here. The virtual audience will be invited to participate in the discussion and ask questions.
Leading figures in the field of film studies, Thompson and Bordwell are the authors of innumerable books and articles both separately and together, including the textbooks Film Art and Film History. On their influential blog, Observations on Film Art, they  point out that "the war film bristles with a lot of narrative possibilities," and suspense is at the heart of that genre's appeal, resulting from specific narrative and stylistic choices. This conversation confronts two recent high-profile war films, Christopher Nolan's Dunkirk, with its scrambled time-scheme, and Sam Mendes's 1917, with its long takes for the illusion of near real-time storytelling. The roundtable will outline how these two very different films with their opposing plot strategies and visual styles both develop stunning effects for their audiences.
The Willson Center Cinema Roundtable meets to discuss topics of film history, criticism and theory. Richard Neupert, Wheatley Professor of the Arts, Josiah Meigs Distinguished Teaching Professor, and film studies coordinator in the department of theatre and film studies, organizes and moderates one roundtable each semester.
This event is part of the university's Spotlight on the Arts festival. More information on the 2020 Spotlight on the Arts festival, including a schedule of events, can be found at arts.uga.edu as well as on the Arts Council Facebook page (facebook.com/UGAarts), Twitter feed (@UGA_arts) or Instagram (instagram.com/uga_arts).