Image: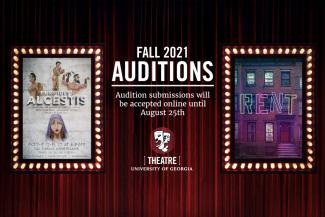 FALL 2021 AUDITIONS: Euripides' Alcestis & Rent
Department of Theatre & Film Studies, University of Georgia
(Please read entire post)
UGA Theatre will be holding auditions for the Fall 2021 semester productions via online video submission. Callbacks will be in-person at the Fine Arts Building at the corner of Lumpkin St. and Baldwin St. 
Auditioning students are required to complete the "Actor Audition Form" online at the following link: https://ugeorgia.ca1.qualtrics.com/jfe/form/SV_bBC58bxja7ccZiB
Within this online form, there is a spot to link your audition video (Note: In the past, an unlisted YouTube video link has worked well for others. If you use Google Drive or another online storage service, please ensure that the permissions on your link are set so that anyone with the link can view the video.)
The DEADLINE for submitting your actor form, complete with the link to your audition video, is August 25, 2021 by 11:59PM. 
CALLBACKS
SCHEDULE CHANGE
Callbacks will move to the following schedule:
SATURDAY, August 28 9:30-12:30 (noon) ALCESTIS  ROOM 352
SATURDAY, August 28  2:00-5:00PM RENT Room 115
SUNDAY, August 29  2:00-5:00PM RENT Room 115
Cast lists will be posted at drama.uga.edu no later than Monday night, August 30th.
Rehearsals will start for ALCESTIS on Sept. 2.
Rehearsals will start for RENT Sept. 7.
You are strongly encouraged to wear a mask in the Fine Arts Building .
If you don't have a viable space or equipment to video your submission:
The Theatre and Film Studies department will be providing the Media/Light lab where you can use your own or provided equipment during 6-9 on Tuesday 8/17 + Monday 8/23 and 2-4:15 on Saturday 8/21 + Sunday 8/22. You may sign up for a time at the following link: https://docs.google.com/document/d/1MsaM_X9RO7wKeXQq1AzmQTCCPCjphEK9RYLwNDLlSEA/edit?usp=sharing
For questions regarding this process, please contact Mike Hadary at mhadary@uga.edu.
Fall 2021 Productions:
Euripides' Alcestis
Directed by David Saltz
Performance Dates: October 7-9, 12-15, and 17 at 6:00PM. 
All show will be performed outdoors at the Miller Learning Center (MLC) Terrace. 
Rent
Directed by Brandon Lareau
Performance Dates: Nov. 4-5, 10-13 at 8PM. Sunday Matinee Nov. 14 @ 2:30PM.
Fine Arts Theatre
A featured event in the University of Georgia's Spotlight on the Arts Festival
Audition Video Requirements: 
Video submissions should be a total of 3 minutes in length and include the following:
An Introduction: your name and the titles of your 2 audition pieces*
A monologue**
An excerpt from a song***
* For those auditioning for Rent: If possible, include music reading ability and vocal range using either the number system, e.g. A2-G4 or if it's easier, Sop/Alto/Ten/Bari/Bass.
**If you're only interested in Rent, it is preferred that you present a memorized monologue with your memorized song. If that is not possible, submissions may include your memorized song and an unmemorized reading of one of the supplied monologues at the following link:
https://drive.google.com/file/d/1XxRu0zMeACb4OWI78_J7jL6OXso3Kt8n/view?usp=sharing
***Audition songs do not have to be from a musical (Rent is in the style of 90's pop and rock). We'd prefer a rock or pop song of your choice, but any genre is acceptable for your selection. Aim for no more than a minute for your song. We will accept a cappella song submissions (songs without the assistance of an instrument), but accompaniment is preferred. Accompaniment can be live, karaoke or DIY pre-recorded guitar or piano tracks. Rachel Townes (the music director) is available if you'd like to hire her to create a piano track for your audition: racheltownes@gmail.com (706) 254-8572.
If you don't sing, you may choose to do 2 contrasting monologues instead of a monologue and a song. You may set up your camera and do these in one take OR you may want to perform in separate cuts that total 3 minutes. Please try to create a relatively neutral background and put the cat in another room. 
Questions:
If you have questions about auditions or the shows you may ask the directors questions prior to the August 25th deadline. Please write "Audition question RENT" or "Audition question ALCESTIS" in the subject line when contacting them. 
Alcestis questions to saltz@uga.edu ,   Rent questions to Brandon.Lareau@uga.edu 
About the Shows: 
ALCESTIS is a (Satyr) play originally written by Euripides and produced at the City Dionysia in 438BC. The title refers to a mythical Queen/Princess so devoted to her husband that she takes his place in death, only to be retrieved from the Underworld by Hercules. The show will deal with questions of life, death and the patriarchy (who are these guys running things anyway?) and the production will make use of larger-than-life masks, media, and active "Greek-chorus"  citizens moving throughout the audience. Work on this production has started with playwrights Gabrielle Compton, Taryn Nicole Spires and Jeannie Thomas crafting an irreverent adaptation with more contemporary perspectives, but the actors will also contribute to this more modern perspective in rehearsals. The ensemble cast is likely to be 8 actors who will move in and out of named character roles (masked) and also play citizens.  Performances are planned for an outdoor venue (note the earlier curtain time) in a celebration of our return to live performance!
RENT is a Pulitzer Prize-winning rock musical by Jonathan Larson (loosely-based on Puccini's La Bohème). The musical focuses on the lives of residents and wanderers in New York's East Village as they endure, discover and embrace "Another Day." Themes of personal growth, gender identity, fear of death, rebellion, poverty, homelessness, and change are explored in character and song. With a fresh focus on the queer and BIPOC characters, we hope to breathe new life into Larson's story of warmth and community, the healing power of love, the endurance of friendship, and the freedom found in the rainbow of identity. All students are encouraged to audition for all roles regardless of race, gender, identity, ability, or body type. Drag performers are invited to audition in or out of drag, trans performers are invited to audition in a way that affirms their identity. We encourage bilingual/multilingual performers to audition.