Image: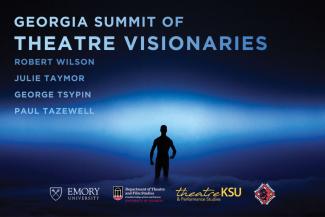 In collaboration, Kennesaw State University, the University of Georgia, Emory University, and Walton High School will host a series of guest live presentations by top-notch theatre visionaries on Zoom Webinar during the Spring semester of 2021. The guests include Julie Taymor, Robert Wilson, George Tsypin, and Paul Tazewell. The goal of this collaboration is to bring the insights of the theatre visionaries into classrooms. 500 participants comprised of students, faculty, and staff will have the opportunity to share these once-in-a-lifetime experiences. 
The members of the Planning Committee include Chuck Meacham (KSU), Ming Chen (KSU), David Zucker Saltz (UGA), Julie Allardice Ray (UGA), Joymichelle Green (Walton High), and Sara Ward Culpepper (Emory University). 
The dates of the presentations are:
Jan. 27 – Robert Wilson
Feb. 3 – Julie Taymor
March 24 – George Tsypin
April 14 – Paul Tazewell
To register, visit ugatheatre.com/gatheatresummit and register at your school's link. 
For more information, please contact:
Chuck Meacham (Chair of the Department of Theatre and Performance Studies at KSU) at: cmeacham@kennesaw.edu 
David Zucker Saltz (Head of the Department of Theatre and Film Studies at UGA) at: saltz@uga.edu