Image: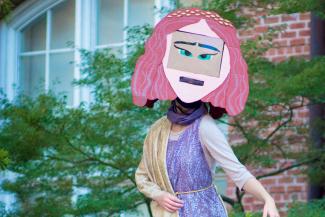 ATHENS, GA – UGA Theatre presents "Alcestis" by Euripides, directed by David Saltz, and freely adapted by UGA students Gabrielle Sinclair, Taryn Nicole Spires, and Jeannie Thomas, Oct. 7-9 at 6 p.m. and Oct. 17 at 6 p.m. at the MLC outdoor Amphitheater. Tickets are $16 and $12 for UGA students and can be purchased online at ugatheatre.com, via phone at 706-542-4400, or in person at the Performing Arts Center or Tate Center box offices.
Through the trickery of the god Apollo, King Admetus is spared the fate of death – but with a catch: someone must take his place. With no one willing to accept the sacrifice, his loyal wife Alcestis answers the call. What follows is a satirical tragicomedy that questions our relationship with life, death, and love from a uniquely modern perspective – complete with appearances by the debauched demigod Herakles and the personification of Death itself. Utilizing digital masks and actor-driven technology, this original adaptation aims to breathe new life into Euripides' irreverent tale.
Performed outdoors, "Alcestis" will give students a taste of how ancient Greeks might have experienced live theatre. Like the ancient Greek actors, performers will even be masked, but with a modern twist: These masks, specially designed by students in UGA's Digital Media MFA program, incorporate built-in screens, using technology that projects their character's eyes and allows for actors to control their expression. The digital masks invite the eerie presence of the past year and a half in a pandemic in which so much of our communication has been through our digital selves.
Director David Saltz introduced the concept of the digital masks to his team earlier this spring, and students have for the past several months been collaborating across playwriting, digital media, and performance, investigating ways in which modern technology and modern culture might inform our understanding of this ancient play.
In their adaptation, the three playwrights, all graduate students in UGA's theatre and film studies department, re-center the character of Queen Alcestis.
"In the original version the title character only had one scene!" said Spires. The playwrights followed Euripides' story beat for beat, but gave time and space for "gap scenes" for Alcestis. Hailey Carter (B.A. Theatre), who plays Alcestis, describes her character's journey as "relatable for every girl watching, especially girls who have been in a relationship and had to look back at it like retrospectively and realize that things weren't as perfect as they might have thought." Demi Lehman (Theatre B.A.), who plays the king's father, says that she is "really excited to get to show it to everybody for the first time, the world premiere. I think it's really going to resonate with audiences in a whole new way. It's going to be super-fun."
The masks are allegorical, representing the façade we personally display to the world, and all the societal expectations that come with it. "The concept of masks is also particularly relevant in the year 2021," said co-writer Jeannie Thomas, a second-year dramatic media MFA student, who is also the sound designer for the play and will be running one of the laptops connected to an actor's mask. "We are so used to seeing people from the eyes up, and being able to play with that image has been really fun from both a technological and narrative standpoint."
Nala McCamy (B.A. Theatre), who plays Herakles, says she is enjoying the rehearsal process immensely because "our cast is super talented and super diverse and racially, gender, ethnically. And we have a lot of fun and I think the audience will too."
"Alcestis' is the perfect play for these times," said director David Saltz. "It's a small, intimate story with epic reach. It's a wonderful opportunity to connect our modern theatre technology with the ancient storytelling technology of the past."
Writer: Gabrielle Sinclair